Posted by
Avram C. Freedberg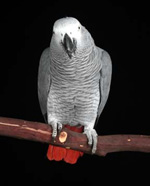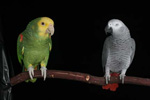 Five or six months after our African Gray, Gracie, died we decided to get another bird. I didn't know if I could get another African Gray because of my feeling for Gracie. However, when we went to the store that normally had many African Grays for sale they only had one. So, we felt like it was meant to be. When we found out it was male, that cinched it, since it was a "gray" but different than Gracie. We named him Gabby.
Gabby was too young to take home, so we visited him often at the Parrot store. Each time, there was a double yellow headed Amazon who'd flirt with Rhoda. He'd say, "hello" each time she'd come in to the store. To make a long story short, "Goldy" is now a member of our family too!
Goldy is a great singer. He's picked up many tunes including, You are My Sunshine and a little song I made up for Rhoda who is a realtor. That song goes, "Wanna buy a house? Call Rhoda, Rhoda, Rhoda!"
Gabby is more of a talker and whistler. He does a great wolf whistle, "Hello" and AOL's "Welcome you've got mail." He also sings, Let's go Mets and Let's go Rangers for the sports teams. He likes to snuggle.